Niagara Falls


When we went for a boat ride at Niagara Falls, I was horrified. I was able to smell the clean, fresh water and then I did not panic. I became determined. I saw water flying everywhere. I tasted and felt water. I watched in awe as we went behind the falls. I heard the water crashing.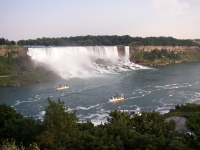 Travis
Age 10
Submitted: September 16, 2004
Story written using words describing the senses.